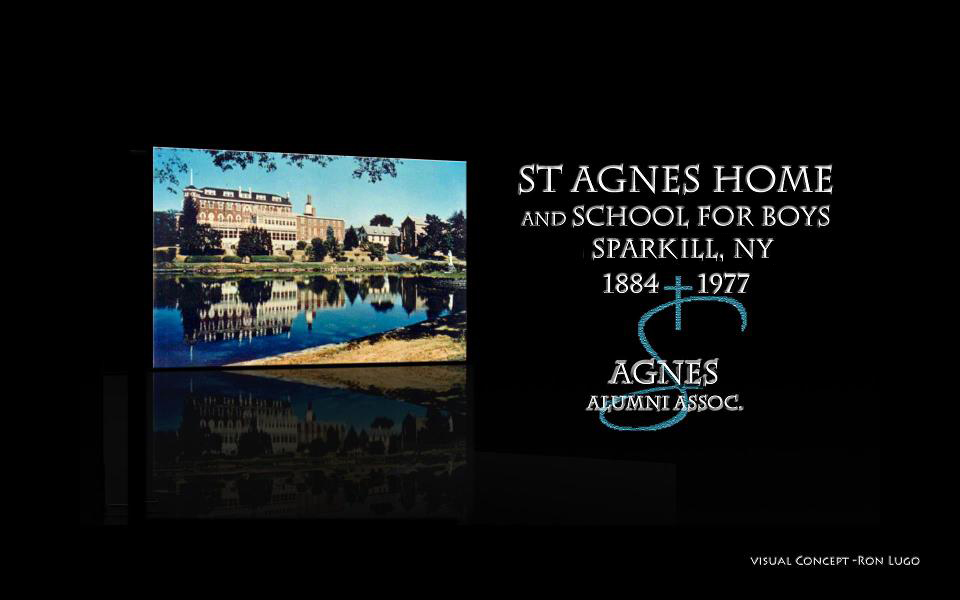 Facebook group name:
St. Agnes "Housekids", Sparkill NY
Administrator:
Peter Feliciano
- OR -
To join the Group:
1)First join (or log in to your Facebook account: www.facebook.com
2)Then, type the group name (above) in the search bar, on YOUR homepage
3)Then click enter 4)Click Add people? to Group under "Members" (center right)
5) type your name & hit enter. I'll get your request to join by email and I'll add you.
Note; If this doesn't work, email the administrator (above) for assistance.
Partial Member List
(79 as of 6/8/14)
A
Penelope Johnson Agramonte
John Antonacci
Halima M Arias
B
Robert Babcock
Summer Babin
Mary Hackett Bailey
Kate Cathy Barber
Eileen Simpson Bird
Barbara McCullough Braum
C
Nancy Canfield, (Author of the book, "Home Kids")
Jason Capuano
Victor Castro (Former president of St Agatha alumni Assn)
Barbara Clements
Wayne Cozart
Ricardo Cristóbal Colón (1960-1966)
Alex Sunshine Czarkowski
D
Guyanund Deepchand
Jean Martin Delamothe
Donald Dinaro
Marilyn Dunn
F
Ed Falterman (1965-1972)
David T Feliciano (1945-1952)
David Feliciano Jr (son of David)
Peter Feliciano (1942-1951)
Denis Flynn
G
Catherine Vilbig Garbarini
Danny C Garcia
Nicholas J Gibbons
Lillian Gorbea
Kevin Green
Mary Chott Grossmann
H
Mary Ann L Hacker
JoAnne Haggarty
James Halpen
Diane Herbert

I
Bill Iffert
J
Kate Sarah James
Michael Joy
Al Jusino
K
Althea Sullivan Kilburn
Charles Knecht (1950-1961/62)
L
Jessica Leticia
Marieta Santos Lucio
Ron Lugo (Assists with photo touch-up and videos)
M
Ernest Maldonado
Gae Romano Margolies
Ester Matos
Gerald Merna
Elliott Milford
Angel Moran
Patrick Moriority
O
Liza J O'Donnell
Sandra Temple O'Leary
Juan Oquendo
Barbara Skinta Orapello
Edward Oz

P
Margaret A Pallisar
Theresa Rooks Peaden
Starsky Peregrino
George Perez
Tony Perez
Keven Pryer

Q
Brian Quinn

R
Indio Reyes
Mildred Rivera
Daniel Rodriguez
Lou Andre Roman
Elsa Rosa
Aida Alequin-Rosich

S
Tony Saraceno
Vickie Scarlett-Fisher
Debbie Scarlett Soto
Walter E Schneider Jr
Raymond Solis Jr
D.L. Stone

V
Eddie Valdez

W
Jeffrey Allen Williams
Joseph A. Wiska (1947-1954)

Z
Andrew A Zayas