IN LOVING MEMORY OF RUDY POLK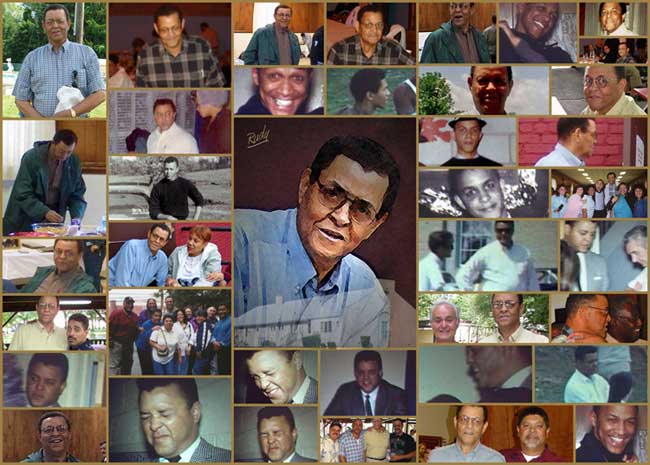 Here, in this collage, by Ron Lugo, lie just a few varied numbers of memorable faces that capture
the essence of our beloved Rudy Polk "The Gentle Bear"… Thank you my Friend and God Bless!..
Please feel free to share your most precious thoughts…
Email to ->

Click here for Benito LaSalle's poem in Rudy's honor
RON LUGO
Thank you all for your wonderful comments... Surely you must know that Rudy is somewhere upstairs
sporting a wide eyed grin, ear to ear, in deep appreciation of the spirited love you guys are expressing
here; which, by the way, is warmly gift-wrapped in such Heavenly Bliss! Much love and God Bless you all!
STEVE GROARK
I was informed tonight that Rudy who has been very sick for sometime spent the last month in the
hospital. It is with a very saddened heart that I am informing you that he passed away tonight
(Monday June 21st @ 9:35pm) at Nyack Hospital. Please say a prayer for his family and all those
who knew and loved him at St Agatha Home. Many of us will be deeply sorrowed they didn't get to
see him one last time. God bless.
JUDIE J ROBINSON
It is with a saddend heart that I must inform all of you that Mr. Rudy Polk passed away yesterday
Monday June 21st 2010. He was a great man and loved by many. He will be truly missed. God Bless.
MARIA AGOSTO-OQUENDO
RUDY POLK ..... the name alone has always brought smiles to many who remember him as a
humorous character ... famous for biting his folded index finger when he wanted to put the fear in
your heart or to make his point known. I last saw Rudy at the St. Agatha grounds commemoration
sitting under a canopy and telling folks about Nancy Canfield's book. We were so happy to see
each other, shared updates, hugged and chatted a while. Sadly he lost his battle with cancer and a
heart condition on Monday, June 21st, but his name, smiles and delightful humor will always remain
with us. Rest in peace, beloved friend, you'll be missed!
Rudy Polk's family held a private, out of state memorial service for him in Georgia.

SANDY SANTANA Jr.
Rudy was the Dad that I never had. He was responsible for giving me my first Job. He would give
me an allowance to clean the kitchen in DePaul on Saturdays. He allowed me to go off the Home
grounds to make money raking leaves and cleaning nearby residential houses. I used the money to
take correspondence courses by mail. One of the courses was Electronics. I am employed today
and have been since I left the home in the Electronics field thanks to Rudy. Rudy's effect on my life
runs deep like the roots of a tree. We truly lost one of the great pillars of St. Agatha Home. I am so
glad I got to spend some time with Rudy at the last two Reunions and the Dedication of the grounds.
Rudy I love you and thank you for everything you did for me and my brother Benito. You will be
dearly missed but never forgotten. Rest In Peace, my friend.
NANCY CANFIELD
Rudy Polk was one of the pillars of St. Agatha Home. A counselor for numerous boys cottages, he was an adviser, and a friend for over thirty years.
MARIA AGOSTO-OQUENDO
Absolutely beautiful collage, Ron! As I mentioned before, Rudy was a very lovable, humorous
character. We all remember him for biting his folded index finger when he wanted to get his point
across. He left a HUGE mark on ALL Homekids he came across with, whether boys or girls. He will
be loved, missed and remembered always. R.I.P, Rudy!!! ?
RONALD LUGO
Rudy Polk – "Last of the Mohicans" Thank you for being here. We'll miss you so! God Bless! •
ROSEMARY RESLER
Ron, this is a wonderful tribute to Rudy, you are right about him being a "gentle giant". I will forever
remember his "Hello Baby" to all the girls, he was such a sweetheart.
FRANCES MERCADO
Oh Rudy, how I looked up to you ---so very tall, since I was so very short. How I admired your deep
voice and hazel eyes. Somehow you were everywhere, where we least expected you to be. You knew
exactly where to find us and we all felt safer for it. You were our Counselor of counselors, our father, and our protector. Rest in Peace, Rudy. Out of all the Polk's, you were Mr. Polk. Prayers for you
from the Maldonado-Mercado families.
Ron, as usual you have outdone yourself with this collage. Maria, Ralphie also remembers him for
biting his folded index finger :-)
RITA VILLA ROSADO
Beautiful collage Ron, Thank you for creating one in his honor! You've captured themanyfacets of
Rudythat have touched our lives! He will always be remembered in our hearts and prayers. R.I.P.
STEVE FRIES
Rudy, Our Prayers are with you. R.I.P.
CARMEN DEMARY MALDONADO
It was always fun when Rudy was with us. I'll always remember that. God bless.
The picture of Rudy brings back the Memories when I was there. Beautiful Photo •
MILAGROS CASTRO
Wow Ron, wonderful memories! Rest in Peace Rudy he was a very funny person and he will be
missed.
MIRIAM GONZALEZ
Great Poster of Rudy and good job! My brothers Peter and Hector will be happy to see him up in
heaven. Rest in Peace, Rudy
ISABEL PEREZ-CRUZ
What a wonderful tribute to a wonderful man. Frances, we both feel the same way about Rudy. OMG
Maria, I remember that folded finger he us to bite...too funny! There are no words to express the love
and admiration we had for our Rudy. He practically owned St. Agatha's with his presence and his love.
Every where you turned and when you least expected it there was Rudy and boy were we so happy to
see him. He was the funniest person you could ever meet especially when he rolled those big Hazel
eyes. He definitely was a Gentle Giant and tough when he had to be. We were lucky and blessed to
have him by our side. He was "Crème de la Crème". He will be missed by everyone. Our prayers are
with him and his family; May you R.I.P. Rudy. Some day we will all meet you at the gates of Heaven.
Thank you Ron for this fantastic collage and fond memories of Rudy....GREAT JOB AS ALWAYS...love ya :D
MICAELA PRENTERGAST BENNETT
Yep... that's dear old Rudy. Oh my goodness, so sad to hear of his passing; what a kind, good man.
CHRISTIA SMITH
RIP Rudy!! I see Heaven was ready for another one of it's Angels :-)
MICHAEL ROY
Thanks Rudy for all you did for all of us at St. Agatha, both residents and staff.... RIP!
DENISE FORMAN
R.I.P. Rudy enjoyed the time that i had w/u. I will never forget u dancing @ the parties we had @ St Agatha will miss u.
LEE DOMINIQUE WHITE
Oh god say this isn't happening.....Rudy? No No No No...
KISHA HAIRE
Wow I can't believe Rudy is gone I remember when we first met, my perception of him was shady in
the beginning. Now looking back and thinking, Rudy was there when people needed him to. When I
read the news my heart became real heavy so he will always stay in my prayers and he will be miss
always...
CALVIN M HEYWARD
Rudy, u will be missed! …
BARBARA BRUECKNER
I will always remember, when things seemed so crazy Rudy was always a consistent person in all our
lives, either a joke or how to win a couple of bucks. How many of us remember those little "peel off
games" that you would hope to get that big one. You will never be forgotten "Rudy"
KEVIN A DONOHUE
Rudy loved St Agatha like few did. I was his 'home', he felt grounded there. He would take any
excuse to come around, volunteering his time years after retirement. One of my favorite Rudy stories
was how he used to stop by security every Saturday morning to make use of the 'facilities'. In truth,
however, it was just another excuse to stop & gab a bit, tell a few jokes and savor the friendships &
camaraderie that only develop over a long, long time. The lives he influenced are too numerous to
count- only God knows for sure. Fair winds & following seas, Rudy- you are finally 'home'.
JOSEPH VELEZ
Rudy, the father of us who's own dads may have been missing or lacking in their duties to our needs
and guidance, we will miss you dearly. You will always be with us. Through our own children we felt
your hands on our shoulders and felt your influence, which guided us to see them through their youth.
And I sincerely hope that the woman who had avoided you here will be there waiting to greet you with
open arms and the same love and affection we have.
ELBA MATOS
I just would like to expressed my condolences to this man who was part of my childhood, and was just
Rudy Polk. I know not really what to say but that I am glad I shared with him time, and space, and
memories at St. Agatha.
ROBERT GARCIA
I am just finding out about Rudy. Rudy was awesome and intimidating. I was in DePaul when I first
meet Rudy. Everyone respected him. He knew how to handle us at different levels and attitudes we
had. I do remember him bitting his index finger. I last meet him at the day they had the opening of the
grounds and the farewell to St. Agatha. Rudy, Thank you for being there as a Father in those most
needed days in St.Agatha. You've touched many hearts.
CARMELA KEMPSEY
Your beautiful smile revealed a friendly, compassionate soul that was a comfort for those facing so many challenges. The world is in need of more Rudy Polk's to walk its path bringing a healing spirit. May the joy of God's love and peace enfold you.
To add your sentiments here about RUDY Email them to: Peter Feliciano
************************************************