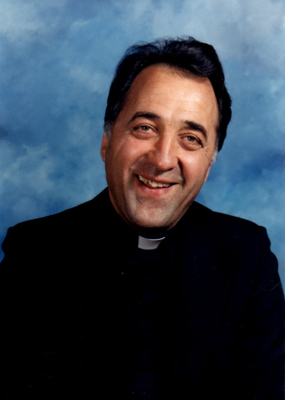 AGE: 83 • Tuckahoe
Francis Eugene Oliverio was born in 1930 to Italian immigrants Samuel and Mary (Caputo) Oliverio of Belle Vernon, Pennsylvania. He was the youngest of eight children and was determined at a very young age to become a priest.
Father Frank graduated from Cathedral College on Manhattan's upper west side and St. Joseph's Seminary in Dunwoodie. He was ordained in 1956. Later he would go on to study Spanish at Georgetown University, earn a Masters degree in Pastoral Counseling from Iona College and a Professional Diploma in Counseling from St. John's University.
He began his priesthood as an assistant at St. Joseph's in the Bronx and went on to serve St. Agatha's Home in Nanuet, St. Lucy's in the Bronx and St. Francis of Assisi in the Bronx before receiving an assignment as pastor of St. Ann's in Ossining in 1981. Father Frank took sabbatical at the North American College in Rome in 1995 where he had an audience with His Holiness, John Paul II. He returned to New York to work for the Archdiocesan Office of Evangelization. In late 1999, Cardinal O'Connor appointed Monsignor Oliverio as pastor of the Immaculate Conception Parish in Tuckahoe where we would remain until 2005, having been named pastor emeritus.
For over 50 years, Father Frank did more than serve the diocese, communities and people of New York; he inspired and he educated. His selfless service extended beyond the doors of the church and indiscriminately into the streets: the homeless, the addicted, the lost all found a confidant. His passion for community service was transcendent and total. And yet, he was never short on time for a quick talk about what-so-ever you had on your mind. Father Frank was approachable, humorous and real. He was a wonderful priest and a great man.
Rev. Msgr. Francis E. Oliverio is predeceased by his parents, Samuel and Mary, and six of his seven siblings: Theresa, Katherine, Samuel, Margie, Anthony, and Paul. He leaves behind one sister, Esther, many nieces, nephews, great nieces and great nephews and countless friends.
Funeral Arrangements for Rev. Msgr. Francis E. Oliverio will be held on Tuesday September 10 with the Reception of the Body at 2PM at the Immaculate Conception R.C. Church 53 Winterhill Road Tuckahoe, NY. He will rest in state from 2 to 9 PM at the church on Tuesday and Wednesday. On Wednesday evening the mass of Solemn Vespers for the Dead will be offered at 7 PM. On Thursday September 12 a Funeral Mass of the Requiem will be celebrated by His Eminence Timothy Cardinal Dolan at 10:30 AM. Interment to follow at the Holy Rood Cemetery Westbury, NY. In lieu of flowers memorial donations in his memory may be made to the
St Jude Children's Research Hospital
501 ST. Jude Place Memphis, TN 38105-9956 www.stjude.org Funeral arrangements have been entrusted to Westchester Funeral Home Eastchester, NY. You may leave an online condolence at
www.Westchesterfuneralhome.com